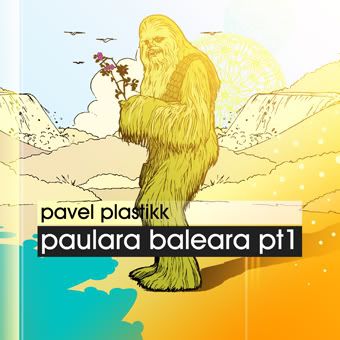 I've promised countless times that I'd put this excellent mix by Pavel Plastikk up, but there was an artwork issue; Pavel felt the original version I did was too Cosmic and not Balearic enough, well that'll teach him to mess with the designer. Seriously though, I agreed, but couldn't find the time to get it sorted. So finally, here it is. 'Paulara Baleara Pt1' is a very fine, chilled out ride; exactly the sort of thing required for those of you with incoming summer weather and upcoming days on the beach.

By now you already know Pavel, he's from the Ukraine, he runs the, now well famous, Low parties, he's an eclectic dj but seems to have found a real and unique voice with Balearic beats. His press play mix 'Adriatica' racked up about 1500 downloads, before divshare wangled my counters. Pavel says 'Paulara Baleara pt1' is one of his best mixes yet, so best get on it. We're not going to run a play list for now, so you'll just have to take my word that it's fine and mellow. Also feel free to post your spots in the comments section. This mix is the first in a series of three, enjoy it...

now with tracklist...
01 Björn J:son Lindh - Dyninger
02 Steinar Haugerud - Traditional Lullaby
03 Shelby Gaines - Aquaworld
04 Brian Eno & David Byrne - Mountain Of Needles
05 Arthur Russell - A Little Lost
06 Fläsk Kvartetten - Over The Rainbow
07 A Mountain Of One - Our Eyes
08 Kenneth Bager - The Day After Yesterday (Part Five)
09 Santana - Love Theme From Spartacus
10 Messalina - Big Brown Eyes
11 John Martyn - The Man In The Station
12 Micah - Revelation
13 City Reverb - Ghetto Glamour (Time & Space Machine remix)
14 Charlotte Gainsbourg - 5:55
15 ARP - From A Balcony Overlooking The Sea

Pavel Plastikk - Paulara Baleara pt 1.