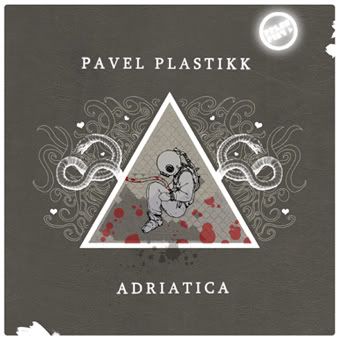 For those of you who are lucky enough to be enjoying the heat of summer and are in search of a top notch sound - track for heady ways and lazy days, look no further. Pavel Plastikk has created a mix of distinction for a.n.o.e.'s Press Play series, it's full to the gills with laid back, Psychedelic, dubbed-out and oceanic head food of quality. I'm pretty fussy when it comes to 'chill-out' tapes, but Pavel's mix is steps ahead with a careful balance of light and dark tones, antique sounds mixed up with modern Balearic (or balearic) beats, and more than a few moments of future/retro bliss.

Many of you will already know this Ukraine DJ from his multiple appearances around Europe over the last few years, most notably he featured at o8's Electric Chair organized Electric Elephant festival in Croatia (and he'll be back this year too), he's also played alongside Cosmo Vitelli, Pilooski, Lindstrom and a bunch of other very groovy individuals. Pavel is pushing forward this year with a load of interesting production and remix projects, again with some seriously good establishments like This Is Not An Exit and Cosmic Disco UK. Keep your eyes peeled for his upcoming gigs which take in Oslo, the Halloween Lowlife Party and Discobox in London. While Press Play #25 is very much a downtempo journey, you can expect Pavel to spin anything from Midtempo Disco to Psyche Rock to Acid House and Broken Beats, you can also expect whatever genre he takes in that you'll hear exceptional and original sounds. Check his myspace for more info about his successful night LOW, his past and hopefully, in the near future, listen to some of those tunes we've been hearing about.

So here it is, as always you can get it on the sidebar or here.

Press Play #25 - Pavel Plastikk - Adriatica

Tracklist

01 Ollano - La Couleur
02 Uriel - You Who Are Reading Me Now (Kid Loco's Love Experience mix)
03 Forest Hill - Gymnopedie (90's Summer Boogie Hiphop Mix)
04 Break Reform - And I (Yam Who? Rework)
05 Beanfield feat. Ernesto - Chosen
06 Fug - Ready For Us
07 Santana - Mantra
08 Eri Nobuchika - Kutuwonarasou
09 Jan Hammer - Flashback (Instrumental)
10 Maas - Look At Me Now, Falling (Maas 'Zoyd & Prairie Mix')
11 Earthbound - The Awakening
12 Athome Project - Summertime (Non-vocal-dub)
13 Jerome Badini - Trindade
14 Alex Kid - I Think (Dorfmeister & Alexkid Remix)
15 Stuff - And Here You Are

NB Also this weekend, I have another brilliant Press Play going up from Canadian Steve Yanko...